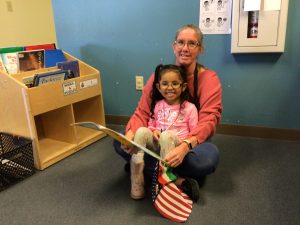 Hello and welcome. I am Patty George.  I am the Lead Teacher for the 3-4 yrs old children.  I started my time in Early Childhood in 1993 as a Home Provider.  I made the switch to teaching Preschool in 1998. I have a Bachelors in Business and also have taken many education classes in college.  I went back to school to take Early Childhood classes to receive my Child Development Associate certificate.   I have continued to take Professional Development classes and training over the years. I have  a Level 6 EC Credential.
My husband and I have 2 grown children and 2 grandchildren that we get to spend time with.  We enjoy hiking around the Gunnison area in the summer.  In the winter, I enjoy reading, needle point and sitting in front of my fireplace.
My favorite time of day at school is Teacher Job time.  I get to work with 1-2 children at a time to help them develop the skills they need to be successful in Kindergarten and beyond.  I love the look on children's faces when they realize they did something they had said they couldn't do.