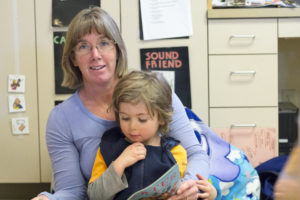 Hello, my name is Patty George.
I'm the lead teacher in the 2nd Blue Preschool Classroom.
This is my 19th year of teaching preschool. Prior to I was a home provider so I could be with my own children. I went back to school in 1998 to earn my Child Development Certificate to teach 3-5 yrs old. My husband and I have 2 grown children and 2 grandchildren that we love to spend time with. We spend our summers hiking around Gunnison and the surrounding areas.
My favorite time of day at Tenderfoot is Teacher Job time. I like to sit with 1-2 children at a time to help them learn and practice the skills they need to be ready for Kindergarten.